This is a personal journal. If you're interested in reading, please comment ^_^


12:01 Watercolor down, now onto interactive. Gahhhh I still have to redo that mother fucking media player #


Automatically shipped by
LoudTwitter
11:32 ZOMG I got motivated to clean my room. Posting pictures on daily_lolita with shitty room suxorz XD Lol. Time to spiffy it up! #
14:50 Mah phone interview for Charleston Magazine went well :D Lesse what other opportunities arise :3 #
18:21 Time to om nom and get prettyful for toinght~!!! Waiiiiiiiii #
Automatically shipped by
LoudTwitter


13:48 Is much better, back to napping. Naps are goooooood. I'm about 99% sure I'm skipping class tonight. Why? Because I can :D #


Automatically shipped by
LoudTwitter
misaki_sales
misaki_sales
misaki_sales
misaki_sales
misaki_sales
misaki_sales
misaki_sales
misaki_sales
misaki_sales
misaki_sales
Well, I decided to make a new sales journal instead of selling everything in here.
emirii
's birthday! :D We did the cosmic bowling night filled with black lights, music, and FOG.
*Lots of pictures!*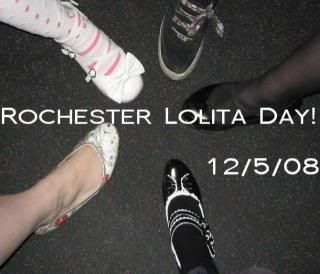 (
You have just been Eisenhowered
Collapse
)
Today, the Rochester lolis went to Bowl-a-roll to celebrate Lolita Day and
So, my outfit...is starting. I've barely got any done. But anyway, I need to pick out a wig if I want to be able to wear the costume for the upcoming con. So I need some help!


Anyway, I went home this weekend to hopefully get the last of my braces out of my mouth, but then that didn't happen which kinda rele pissed me off. They're moving a couple teeth that got out of place since I haven't been there for like 6 months. Whatever, 6 weeks, and it should be out I hope.

So, I hate my house, I hate being there. I'd have no problem with it if it was just my mom there, but my father is back and I hate him with every fiber in my being and I wish he'd just go jump off a bridge, no I am not kidding. Our garage smells like pot which the smells seeps into the family room. He got Misty into going to the bathroom upstairs so now she keeps going up there which is really bad. He is a disgusting pig, he acts like a 5 year old and can't do a fucking thing for himself. He can't even flush the damn toilet which is nasty as hell so now it gets stained easily. This essentially turns my mother into his cleaning bitch because he's a fat piece of shit. I fucking hate him and I want him to fucking to go hell where he belongs. The only reason he's around is because I need money for school and that's it. His family are a bunch of crazy people that can go jump off a bridge as well, who the fuck needs them. My grandmother told me to call my father yesterday just to be nice to see if he was feeling better since he was sick. I told her I could really care less and I told her that he could go kill himself for all I care. She didn't blame be for thinking that way and said to give it some thought. I didn't call, and I'm happy about it.
So, I find out if I become the president of AIGA today, a graphic arts club that's known nationwide. I'm kinda nervous because I'm afraid that it's going to be a popularity content that I have no idea in who's favor it's going to side. At first, I was supposed to be the only one running for prez, now that would have been awesome, but then the current president asked Lynde if he could run for president as well since he didn't really care what position he ran for. That's all well and good, but then he ran for EVERY position except for treasurer. Me, the whole running for mulitple positions I thought was dumb in the first place, but to be running for everything, that seems a little unfair. I know we have a small club right now because the current people really fail at advertisment for getting more people in, but even SG for campus has multiple positions that have only one person running and that's a campus wide thing! WTF. But yea, I'm nervous about that. Good luck Megan for VP! <3
Current Mood:

anxious


Oh, and Pokemon Crystal and my SP has absorbed me. It's actually really terrible how much time I've put into my games already. And I think I've only had it a week D:
Um. I dont want to take my Japanese midterm tomorrow... I feel like I do know the stuff.... but then again I don't. I dunno and last quarter my midterm broke me and made me get a B for the quarter D: I RELE wanna get straight A's this quarter, it's been my goal ALLLLLLLL year. And there's always one class I get a B in. Pooey. If I get a 4.0 this quarter, it'll rele raise my GPA since I'm taking 18 credits. Buahahaha. 18 credits of pretty much easy classes is niceeeeeeeeee.
Current Mood:

chipper